Gorgeous 2 bedroom condo in Tides of Tops'L
Unit Code: Tide1008
Great Condo and Great Location
Reviewed on 2021-04-05 by Tanya B. from Chicago, IL United States
Updated on 2021-04-05
Services from rental manager
Cleanliness
Location
Property condition
My family and I booked this rental for Spring Break and we were not disappointed. The description and pictures were a perfect representation of the unit. <br/><br/>I was concerned about the cleanliness of the condo given the new pandemic world we live in. I did not have to be. The place smelled clean and was spotless. The LR and bedrooms were spacious. The balcony was large with a lovely view of the beach (though it was angled). The kitchen itself is tight, but we made do. <br/><br/>The building is steps from the beach and also has 2 pools. We mainly went to the beach. They also have basketball and tennis courts. <br/><br/>Everyone we encountered were super nice. We would go back in a heartbeat and recommend this unit.
Pretty unit- AWFUL service
Reviewed on 2020-10-16 by Heather F. from Winter Garden, FL United States
Updated on 2020-10-16
Services from rental manager
Cleanliness
Location
Property condition
We rented this unit directly through the site. The pictures were exactly what we got. Beautiful view with a well appointed 2/2 condo. However, what you can't tell in pictures is that the unit's thermostat was preprogrammed (nest) and you could not override the part where it drops to 66 EVERY NIGHT. What you couldn't tell from the pictures is that the pool code sent in your welcome documents was wrong and you'd spend the entire week calling and asking for a new code to no avail. What you can't HEAR is the jack hammering that started at 9 am on Thursday and was SO LOUD in our unit that we literally couldn't hear one another speak. Or the refrigerator that sounded like a lawn mower 24/7 unless you went and held the side of it. We decided to check out a day early after I finally got ahold of someone at the management office and all she would do is say "oh I'm sorry".... so sorry that we were leaving early that she sent the cleaning lady to change over our unit WHILE WE WERE STILL PACKING UP. <br/><br/>These things are almost laughable now. But it's been two months. No one has breathed a word of it to us. The email I sent remains unanswered. So an invite to write a review??! You betcha.
July 4 stay
Reviewed on 2020-07-10 by Thomas A. from United States
Updated on 2020-07-10
Services from rental manager
Cleanliness
Location
Property condition
Clean unit. Well stocked (mostly.....would've been nice to have more than one roll of toilet paper, and there was a coffee maker but no pot. Otherwise, absolutely fine). Balcony and view were exceptional. Beds were comfy. AC was strong. Great kitchen, dining and family area. I'd go back.
Hi Thomas, thank you so much for this review! We are glad to hear that you enjoyed your stay and we hope to see you soon.
Disappointed in Tides 1008
Reviewed on 2019-08-25 by from Cleveland , MS United States
Updated on 2019-08-25
Services from rental manager
Cleanliness
Location
Property condition
We've been staying at the Tides at Tops'l for at least 20 years. This year we decided to try a different unit, Tides 1008. We thought that Tides 1008 might become our favorite because it has been updated and has a beautiful updated master bath. We were very disappointed and frustrated because we could not control the temperature in the condo. The owners have limits and timers set on the temperature control. If you like to sleep with the temp on 74 and be hot, then rent 1008. The kitchen is very nice, but there is not enough light in the kitchen. It is dark, again an energy saving trick by the owners with too energy efficient light bulbs in the light fixture in the kitchen. There needs to be a small dress or table in master bedroom and a small table or bench in master bath by counter space is limited. Need luggage racks to put luggage on in bedrooms. We paid too much to rent this condo to not be able to control the temperature, at least control within a range (68-72) at anytime, and to have a dark kitchen.
Leave a Review
[2]
Custom1
Tides of Tops'l 1008- Dolphin Beach Service: 850-296-2384
Custom3
TOPS'L Beach & Racquet Resort - HOA 850.424.3269
Custom10
internet: SETUP-1F24 pw: fancy2838buckle
Beds
King 1
Twin 1
Sofa Bed 1
Full 1
AMENITY
combination tub/shower
king
sleep sofa /futon
toilet
tub
twin/ single
ENTERTAINMENT
DVD Player
Satellite / Cable
Television
GENERAL
Air Conditioning
Elevator
Heating
Internet
Iron & Board
Linens Provided
Living Room
Parking
Towels Provided
Washing Machine
On Site Amenities
Community Pool
Tennis Courts
Kiddie Pool
Pool or Beach Bar
Bedding
1 King Bed
1 Full/Double Bed
1 Queen Sofa Sleeper
1 Twin Bed
Indoor Features
Washer & Dryer
High Speed Internet
Geographic and View
Gulf Front
Gulf View
Gulf Side
Pool View
Short Walk to Beach
550 Tops'L Beach Blvd
Unit 1008
32550
Miramar Beach
,
FL
United States
30° 22' 11.2656" N, 86° 19' 29.5896" W
[4]
[5]
[6]
[7]
[8]
[9]
[10]
[11]
[12]
[13]
[14]
[15]
[16]
[17]
[18]
[19]
[20]
[21]
[22]
[23]
[24]
[25]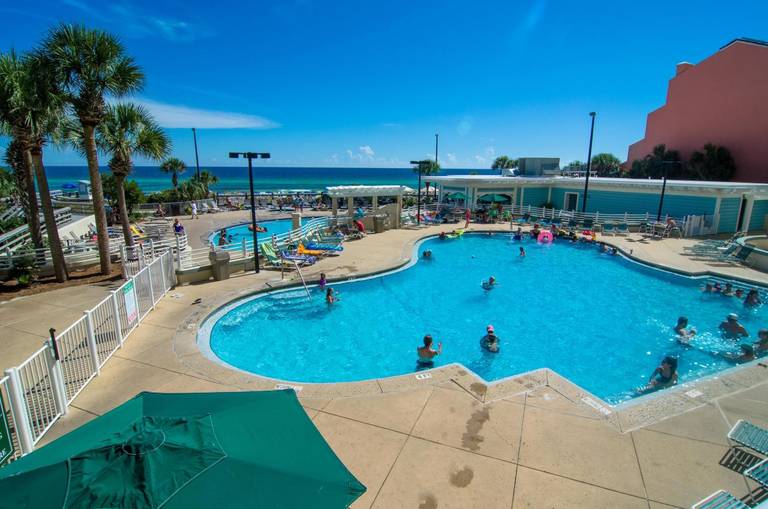 [26]
[27]
[28]
[29]
[30]
[31]
[32]
[33]
[34]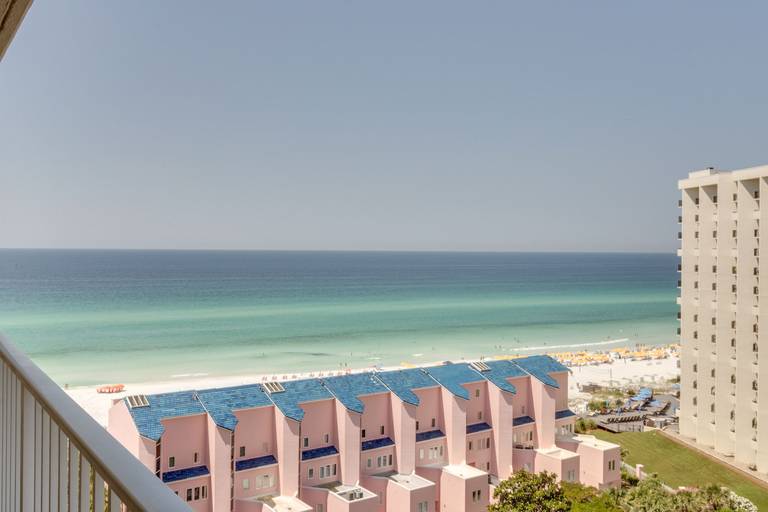 [35]
[36]
2 Bedrooms
2 Baths
Tennis Courts
Gulf Front
Pool
Gulf View
COVID-19 Cleaning Procedures
Due to the pandemic, we have changed our cleaning procedures. As always we are washing all sheets and blankets in between each guest and we are providing antibacterial soap. We are sanitizing and disinfecting all commonly touched surfaces. We highly encourage each guest to bring disinfecting wipes and any other cleaning supplies to ensure their own safety!
Tides of Tops's 1008 is the perfect beachfront condo conveniently located on the 10th floor. The fully-renovated kitchen is equipped to make great meals and is updated with stainless steel appliances, new cabinetry, granite counter tops, and a raised breakfast bar. The dining table seats 4 people very comfortably. In the living room, there is a large flat screen HDTV across from comfortable sofas to sprawl out on. Lounge, eat, and kick back on your own private balcony day or night – accessible from the living room.
The master bedroom also features a flat screen HDTV, luxurious king-size bed to dive into, and en-suite bathroom containing a walk-in shower with a dual vanity.
The guest bedroom has 2 beds one full size bed and one twin size bed, flat screen HDTV, and private closet space. The guest bathroom has to access points. One from the hallway and one from the guest bedroom.
The Tops'l Beach and Resort is conveniently located 10 miles east of Destin in the Miramar Beach/Sandestin, FL area. The resort offers fun and relaxation for all ages and also provides a quiet, secluded peace of mind while being only minutes away from activities, shopping, dining, and so much more!
The Tides building is beachfront – only a few quick steps until your feet set foot on the white, sugar beaches. A nature preserve calmly sits to your East allowing for gorgeous scenery and glimpses of wildlife as well as far less-crowded beaches.
Building/resort facilities include the following:
- Secured, FREE WIFI
- 15 floors, 3 elevators + stairs
- Access to 2 Gulf front pools – building pool & resort pool
- Outdoor hot tub & kiddie pool
- Outdoor showers/bathrooms
- Community grills
- Seasonal tiki bar and grille
- Seasonal beach service (fee)
- Basketball court
- Shuffleboard
Dates
Price
06/05/21 - 07/02/21

$353

/nt

06/05/21 - 07/02/21

$404

/nt

06/05/21 - 07/02/21

$2,529

/wk

06/05/21 - 07/02/21

$2,713

/wk

06/05/21 - 07/02/21

$363

/nt

06/05/21 - 07/02/21

$392

/nt

07/03/21 - 07/09/21

$411

/nt

07/03/21 - 07/09/21

$439

/nt

07/03/21 - 07/09/21

$2,973

/wk

07/03/21 - 07/09/21

$426

/nt

07/03/21 - 07/09/21

$439

/nt

07/10/21 - 08/06/21

$349

/nt

07/10/21 - 08/06/21

$457

/nt

07/10/21 - 08/06/21

$2,651

/wk

07/10/21 - 08/06/21

$3,108

/wk

07/10/21 - 08/06/21

$356

/nt

07/10/21 - 08/06/21

$434

/nt

08/07/21 - 10/22/21

$210

/nt

08/07/21 - 10/22/21

$386

/nt

08/07/21 - 10/22/21

$1,479

/wk

08/07/21 - 10/22/21

$2,469

/wk

08/07/21 - 10/22/21

$6,224

/month

08/07/21 - 10/22/21

$8,443

/month

08/07/21 - 10/22/21

$210

/nt

08/07/21 - 10/22/21

$338

/nt

10/23/21 - 11/19/21

$210

/nt

10/23/21 - 11/19/21

$1,467

/wk

10/23/21 - 11/19/21

$210

/nt

11/20/21 - 11/26/21

$210

/nt

11/20/21 - 11/26/21

$211

/nt

11/20/21 - 11/26/21

$1,470

/wk

11/20/21 - 11/26/21

$210

/nt

11/27/21 - 12/17/21

$210

/nt

11/27/21 - 12/17/21

$213

/nt

11/27/21 - 12/17/21

$1,467

/wk

11/27/21 - 12/17/21

$1,475

/wk

11/27/21 - 12/17/21

$210

/nt

12/18/21 - 12/31/21

$210

/nt

12/18/21 - 12/31/21

$214

/nt

12/18/21 - 12/31/21

$1,467

/wk

12/18/21 - 12/31/21

$1,479

/wk

12/18/21 - 12/31/21

$210

/nt

12/18/21 - 12/31/21

$212

/nt

01/01/22 - 03/04/22

$210

/nt

01/01/22 - 03/04/22

$212

/nt

01/01/22 - 03/04/22

$1,467

/wk

01/01/22 - 03/04/22

$1,475

/wk

01/01/22 - 03/04/22

$5,850

/month

01/01/22 - 03/04/22

$5,858

/month

01/01/22 - 03/04/22

$210

/nt